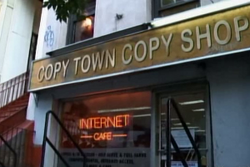 Cut Town Copy Shop is "Jon"'s first job upon arriving in New York City, which he received through the Witness Protection Program. Rick is the manager of the store and could be seen as being a little too headstrong.
The store funded "David"'s Bar Mitzvah. After an argument with Rick, "Jon" quits his position (floor associate) and starts his own business.
Store Functions and Services
Edit
Copy Machines
Internet Cafe
Fax machines
Computer Supplies and Tech
Ad blocker interference detected!
Wikia is a free-to-use site that makes money from advertising. We have a modified experience for viewers using ad blockers

Wikia is not accessible if you've made further modifications. Remove the custom ad blocker rule(s) and the page will load as expected.