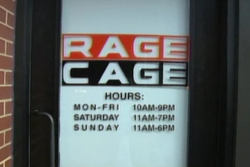 Rage Cage is a business opened and founded by "Jon" after he quit his job at Cut Town Copy Shop, citing problems with his boss, Rick.
The main reason for its opening was due to "Jon"'s longing to be his own boss when working.
Business Concept
Edit
Ad blocker interference detected!
Wikia is a free-to-use site that makes money from advertising. We have a modified experience for viewers using ad blockers

Wikia is not accessible if you've made further modifications. Remove the custom ad blocker rule(s) and the page will load as expected.